GSB Press Release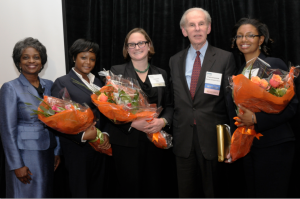 The Minority Media and Telecommunications Council recently held its 4th Annual Broadband and Social Justice Summit, including its Socil Justice Awards Reception. This year, MMTC honored several social justice activists who have made strides in increasing equality in the digital landscape, followed by a recognition of its Law Fellows.
Brimming with pride and unwavering conviction to advance their respective causes, the awardees shared their unique achievements with the night's attendees.
Comcast Executive Vice President David L. Cohen accepted the Champion of Digital Equality Award, making him the second in a growing list of distinguished honorees.
After thanking MMTC for the award via video, Cohen spoke on Comcast's efforts to close the digital divide. He discussed the impact of advocacy around technology access and social equity.
"Sadly, Dr. King did not get to see the flowering of the digital age but he clearly understood the tight link between social justice and economic justice and today the issue of broadband Internet access, implicates both," Cohen said.
Cohen also mentioned the investments Comcast has made to reduce the digital access gap through its Internet Essentials program. Internet Essentials is a comprehensive broadband adoption program, providing low-cost broadband service, with the option to purchase a full-service Internet ready computer for less than $150.00. The service also includes multiple options for digital literacy training, including print resources, online programs and, in-person training. Durring his acceptance, Cohen highlighted some of the Internet Essentials program's successes, which include over more than 400,000 low-income families who signed up to receive an Internet connection through the program in 2011.
Kristal High, Editor-In-Chief of Politic365, a leading online magazine for politics and policy related to people of color, hosted the reception ceremonies. High's remarks throughout the ceremony focused participants' attention on the significance of broadband as a means through which social justice can be obtained in our society and on the link between socially aware communications policy and healthy societies.
FCC Commissioner Mignon Clyburn presented the awards for Digital Media Pioneers. The four awardees included the author of the Wright petition, Martha Reed-Wright; filmmaker Ava DuVernay, and the joint coalitions of the Campaign for Prison Phone Justice and the Prison Phone Rates Collaborative.
Clyburn highlighted the prison payphone issue, discussing the enormous challenge it presents to American families to simply stay connected. Clyburn mentioned the Notice of Proposed Rulemaking issued by the FCC at the end of 2012, which answers the Wright Petition's call for action. The audience learned from her remarks that making a call to a prison costs can be up to 15 times higher than a regular call. It costs more to call Thailand, Clyburn said, than to call an inmate within the states.
After the awards segment of the reception, Erwin Krasnow, chair of MMTC's Mentorship Committee, highlighted MMTC's three senior attorneys and law fellows. He began by introducing MMTC's most senior attorney, Cathy Hughes Fellow Joycelyn James.
"[Minority] participation in media, EEO, ownership diversity, are all critically important, and honestly part of the reason I wanted to be a communications attorney to begin with," James said. "But later I discovered no one was doing quite what MMTC does working at the intersection of civil rights and telecom policy. And this is one of the reasons I've considered it an honor to have held all three of the fellowships [MMTC offers.]"
Krasnow next introduced Jacqueline Clary, senior attorney and holder of MMTC's John W. Jones Fellowship.
"I was fortunate to join MMTC just as the FCC began developing its National Broadband Plan," Clary said. "It's been an amazing experience to watch the industry change and the scope of MMTC's mission expand, but it's been an even bigger privilege to start my career influencing civil rights policy by leading comments [with the FCC] on a broad array of issues, including spectrum and media ownership."
Krasnow then introduced Latoya Livingston, senior attorney and holder of the Earle K. Moore Fellowship.
"I joined MMTC full-time in October of 2010," said Livingston, "and it was the best decision that [I've] ever made. Personally, I've chaired comments filed before the FCC and met with commissioners, their staff, and congressmen and women, all practicing law in a field that seems natural to me."
In addition to his current roles as partner at Garvey, Schubert, Barer, and MMTC board member, Krasnow recently joined the newly formed MMTC Mentorship Committee as its chair. To end the reception, MMTC Vice President and COO Maurita Coley Coley presented Krasnow with a surprise gift and tearful remarks, reflecting upon her own mentorship experience with him.
"Erwin was my very first mentor in the communications industry," she said. "[His] mentoring skills are absolutely amazing. I have Erwin to credit for my having the confidence in myself, in my ideas, in my creativity, and not being afraid to say whatever I felt was important, and that really took me far in my career. And I just say that, at MMTC, we're so happy that Erwin has stepped up to mentor the next generation of young lawyers."
Author: DeVan Hankerson on January 27, 2013